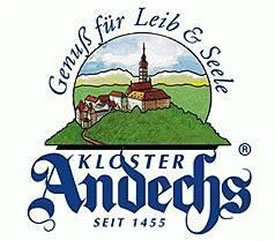 It has become a tradition. It's not a winery… but, every year, I try to visit one of my favorite places in Germany:
Kloster Andechs
. It is a paradise for the 
#winelover
who also appreciates a nice glass of beer.
—
I'm going there again before #WBIS (Wine Business Innovation Summit) in Munich in January, 2014!
Kloster Andechs is a Benedictine monastery located just south of Munich. It is worldly renowned for its Baroque church (1712) but, mostly for its beer, which it has been brewing since 1455.  The monastery beers brewed in Andechs are a true example of a  successful marriage of Benedictine tradition and modern technology.
#musiclover alert: Carl Orff (the composer of Carmina Burana) is buried in the Andechs chapel.
Andechs makes a few varieties of beer. They are excellent and here's a list of all of them:
1 ▪ Andechser Weißbier Hell – an unfiltered, cloudy wheat beer with a light colour. Tastes a bit fruity and very, very nice (5.5 per cent alcohol).
2 ▪ Andechser Weißbier Dunkel – this is what they call a "character beer", quite heavy so you shouldn't need to eat for a while afterwards. It's an unfiltered, dark, "wheaty"  brew with a pleasant aroma (5 per cent alcohol).
3 ▪ Andechser Hell – touted as a "beer for daily enjoyment", this is basically lager with a nice malt flavour (4.8 per cent alcohol).
4 ▪ Andechser Spezial Hell – a lager that's often pulled out for festivals and special events (5.9 per cent alcohol).
5 ▪ Andechser Dunkel – a slightly spicy dark beer, good after big meals. It's got a very similar taste to the Doppelbock Dunkel with a smaller kick (4.9 per cent alcohol).
6 ▪ Andechser Doppelbock Dunkel – the internationally famous knock-out brew. This dark concoction is guaranteed to knock your socks off (7.1 per cent alcohol).
7 ▪ Andechser Bergbock Hell – the light-coloured, mild version of the famous Doppelbock (6.9 per cent alcohol).

My favorite is the Andechser Doppelbock Dunkel. A beer that tastes like wine… Is that why this #winelover likes it so much? 
Kloster Andechs
Location: Berg Strasse 2, 82346 Andechs
Phone: (08152) 37 62 61
_______________________________________________________
Am I talking about the first ever #beerlover hangout? Or is it still a #winelover hangout where we drink beer instead of wine?
Anyway, I hope to see many of you there on the 16th of January!
Cheers,
Luiz Alberto, #winelover